Most people who lead an active or athletic lifestyle understand the nuances of back pain and sciatica. In fact, it's the 6th most costly condition in the US. According to the CDC, approximately 25% of US adults have reported experiencing lower back pain in the last three months. These statistics not only highlight the prevalence of the condition but also underscore the financial implications of sciatica and back pain as costly–especially when it goes untreated or is unmanaged properly.
If you've ever experienced it, you'll never forget it… Sciatica pain is often described as a sharp, burning sensation that originates from irritation or compression of the sciatic nerve. The pain can radiate from the lower back and travel down the leg, and can even reach as far as the foot.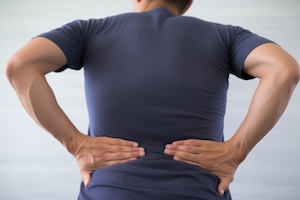 More than just a fleeting ache, sciatica can significantly impact daily activities and restrict physical activities over time, which is why it's important to seek effective treatment and solutions.
Don't Go It Alone! The Value of Physical Therapy
Before resorting to self-medication or online diagnoses, consider booking a consultation with a licensed physical therapist in your area. With deep knowledge and expertise, a physical therapist will start with a personalized assessment to evaluate specific movements, posture, strength and pain levels. Based on this assessment, a physical therapy recovery plan is developed to address very specific and individual needs. 
Specific treatment for sciatica depends upon the issues identified in each patient's evaluation, and can consist of soft tissue massage, education, myofascial release, strengthening exercises, stretching exercises, and electrical stimulation. A personalized plan will also include targeted stretches and exercises designed to strengthen specific muscle groups, lessen pain, and improve range of motion.
What Makes PPR Different In Treating Sciatica and Back Pain?
Let's face it, you know your body best, but you don't have go it alone. Unlike larger PT facilities in the area, Paramount Performance and Rehab in Newton MA focuses on an individualized approach to physical therapy. Your therapist will create a highly personalized plan for treating sciatica and back pain that starts with YOU, then work with you every step of the way. Our goal is to pair you with a therapist who will listen to your situation, monitor your progress, and help lead a recovery program that quickly alleviates pain at the root of the problem.
At Paramount Performance and Rehab, our focus extends beyond mere symptom relief. We want to help you get back to normal–and stay that way–even if your lifestyle includes regular participation in sports or running. Our licensed physical therapists are also personal trainers, which means we can recommend targeted movements and exercises that can provide immediate results while helping you to safely resume your favorite athletic activities like golf, pickleball, tennis, running, walking and yoga.
Which insurance providers does PPR Fitness accept?
At Paramount Performance and Rehab, we accept most insurance plans and strive to get you started without a prolonged wait, with a visit schedule that caters to your necessities. We specialize in providing personalized physical therapy and training services to help every patient attain their health, rehab, and range of motion objectives. Physical therapy is a secure and healthy mode of pain relief, and patients can often achieve long-lasting relief without the necessity of opioids or surgeries. Our team collaborates with your medical team and insurance provideer to support you in achieving your optimal health. Whether you're experiencing an injury, surgical procedure, or any other physical setback that hinders your quality of life, or if your doctor has recommended physical therapy, we're here to assist you.
How long does it take for physical therapy to work?
Muscle-based injuries can take six week or more with proper care. Tendon-based injuries can take up to four to six weeks. Bone fractures or breaks can take up to six to eight weeks or more. Ligaments can take up to ten to twelve weeks to heal. Physical therapy coupled with laser therapy can aid in this process.
How long does physical therapy typically last?
For your individual sessions, you can expect about a 30-minute to one-hour commitment. Frequency can range from once a week to multiple times, depending on the severity of your injury or condition and the goals of your therapy program.
What happens if physical therapy doesn't help?
If there's no change to the area of pain or discomfort within two weeks of physical therapy, you might need a referral back to your physician. This assumes that each patient has fully participated in their treatment.
Take the First Step and Contact Paramount Performance and Rehab
Contact Paramount Performance and Rehab today for a no-risk evaluation. We can usually get you in within 48 hours and will pair you with a licensed physical therapist to evaluate your situation and design a program to help get you active as soon as possible within the limitations of your injury. Make an appointment with one of our trained physical therapists today so you can start getting back to what you love doing!